Visual Artist 🌊 Handmade Design



---
About me
//
--
My studio located in Kreuzberg, Berlin
* This text is a work in progress
My name is Clarisse Canela and I'm a maker. I am a visual artist born in Brazil naturalized in Germany, based in Berlin since 2011. In 2004 I graduated in Fashion Design, as Makeup artist and after that I worked with painting, collage, sewing, assisted other artists and was project manager at exhibitions productions.

In the fashion field, I was for three years a producer and project manager; I learned Bag Making; then moved to Berlin and worked as social media manager and blogger at two marketing companies.


Having worked in different fronts make me come up with my own solutions and technics to what I create and want to materialize.

I was always drawn to bright colors and shining details, but after living in Berlin for over 10 years and feeling the lack of these colors and patterns to dress and see and missing that chaos where I came from Rio de Janeiro and Carnival, I had to go back to doing art after a long pause and create my own pieces. To keep on living I needed to do that, now I am showing the result of my practice to you.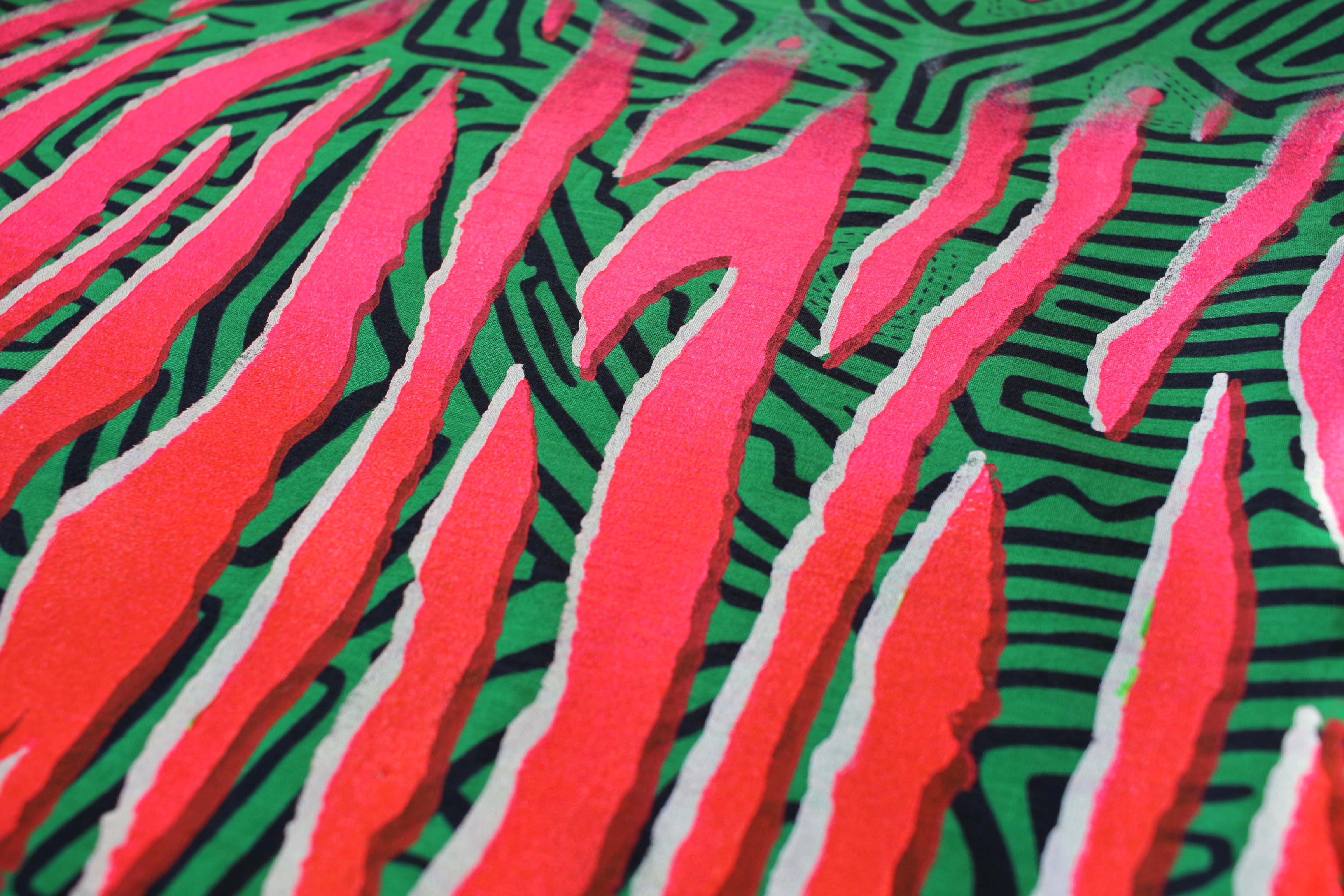 Stencil on textile
---
I like to work with sewing, textiles, trims and stencil with textile paint and spray paint; I make purses, bags, pillow cases, cushions, banners, combine patterns and materials, stenciling, painting, collage.

My work is experimental and I believe in a practice and think the process as a way of learning and executing it.

I enjoy seeing my work on streets as fashion and in interior design, I think that's why I like to create on usables of that nature, present it to people when they are on the way to work, parties, demonstrations or when they are at home. I am in love with social communities and the way they are formed, the spontaneous sympathy, identification, connection.

My studio in Berlin
Boulders sewn for Liz Rosenfeld & Rodrigo Garcia Alves' performance "Thank you for your effort, even if these requests cannot be fulfilled" Photos taken by Xiaofu Wang // ©rodrigo garcia alves & liz rosenfeld // stage and costume design Cardo Matos
I make and support slow fashion and re-use of material, fair trade and the praise of handwork and handworkers. I think that the word sustainability has been overly misused, but I believe in prudent use of resources, nevertheless I do not and cannot restrain my craft into only using used matter, especially because I really value and use the fresh and traditional ones made in Brazil.

I do repurpose though a lot of fabric, in particular from clothes I get in free-boxes and so are not being used anymore, deadstock and vintage fabric.

Re-educate ourselves about hand making and to understand the value and the fair pricing of things, specially in fashion industry. To re-think overconsumption and fast fashion practices.
Part of what I earn with my craft I will donate to sensitive members of small NGO associations and/or to vulnerable communities in Brazil (until I figure out how to put projects I have in mind into practice, my way of helping will be donation based).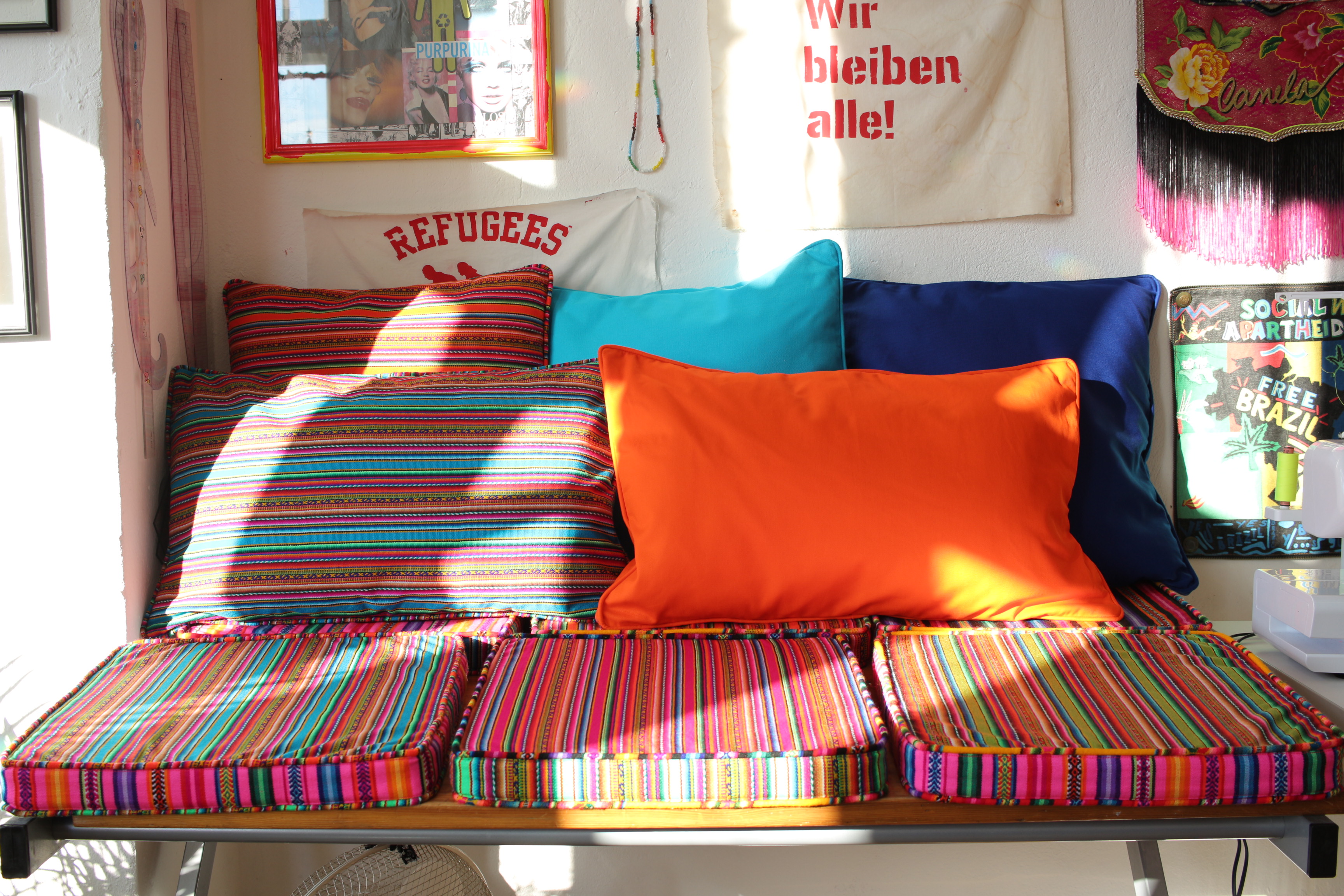 Cushions and pillows made for ifa-Galerie Stuttgart interior design, 2021

INSTAGRAM

︎

contact@clarissecanela.com